[Changelog]New cumulative updates for Windows 10 now available for Release preview ring
New cumulative updates for Windows 10 are now available for Insiders enrolled in release preview ring However,the change log is unknown at this time but the build number jumps to 10586.338 after the update: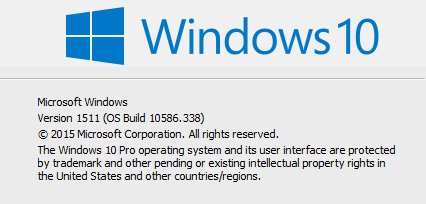 ]
DOWNLOAD
X64-For 64 bit systems use this:
X86-For 32 bit systems use this:
As ususal this build would be available via Windows update too.
Credits @lyraull for the links
As said,these are only for Insiders enrolled on Release preview ring in which the stable build is 10586.The update wouldn't show up for devices running 10586 but not enrolled in Insider program.
-Update:
———————————————————————————————————————————-
MS has posted a changelog:
Improved reliability in numerous areas including Internet Explorer 11, Microsoft Edge, Cortana. audio playback.
Groove music playback. The Maps app, Miracast and Windows Explorer.
Fixed an issue that was causing balloon tip notifications to always appear on the upper left side of the screen.
Fixed an issue that caused VPN to not work properly when switching between different network interfaces (Wi- Fi, cellular etc.).
Improved Narrator's ability to read bulleted lists, hyperlinks, and image information.
Fixed an issue in location that affected navigation apps to lag behind user's actual location.
Improved performance of loading webpages in Internet Explorer 11 when roaming user profiles are used.
Fixed an issue on Mobile causing the phone to stop ringing from an incoming call. If interrupted by an SMS.
Fixed an issue on Mobile that affected some users to lose their contacts, messages, and appointments after upgrading from Windows Phone 8.1.
Fixed additional issues with Microsoft Edge, lnternet Explorer 11. Bluetooth. Cortana. Wi-Fi. Windows Camera app, revised daylight saving time, USB. TPM. Graphics, Group Policy. Downloading music or movies purchased through the Windows Store, Network Diagnostics, and Windows Explorer.
—————————————————————————————————————————
Feel free to ask anything about in comments