Troubleshoot Windows Store problems in Windows 10
Microsoft with Windows introduced a new kind of apps called UWP, which were more redefined and expanded in Windows 10. UWP Apps are the next generation of applications, offering a wide variety of advantages over traditional win32 apps, for example, a higher degree of Security. UWP apps cannot be downloaded from the Internet and run(which is the specialty of those)-They can only be downloaded through an application called Windows Store(similar to Play Store on Android Phones)
As of this time, a wide variety of applications are there in Windows Store-Notably from applications like iTunes to games like Froza Horizon. The built-in Windows apps too, update through Windows Store. As Windows has to adapt on a lot of different configurations, Store app not downloading/Installing apps is a common issue(can be due to bugs/user errors). Through this article, I would link the steps on how to fix Store problems on Windows 10.
Isolate the error
The first thing you need to check is that it is a connection issue or an app issue. If there is a connection issue, Microsoft Store would say it on the first page, that check you are online.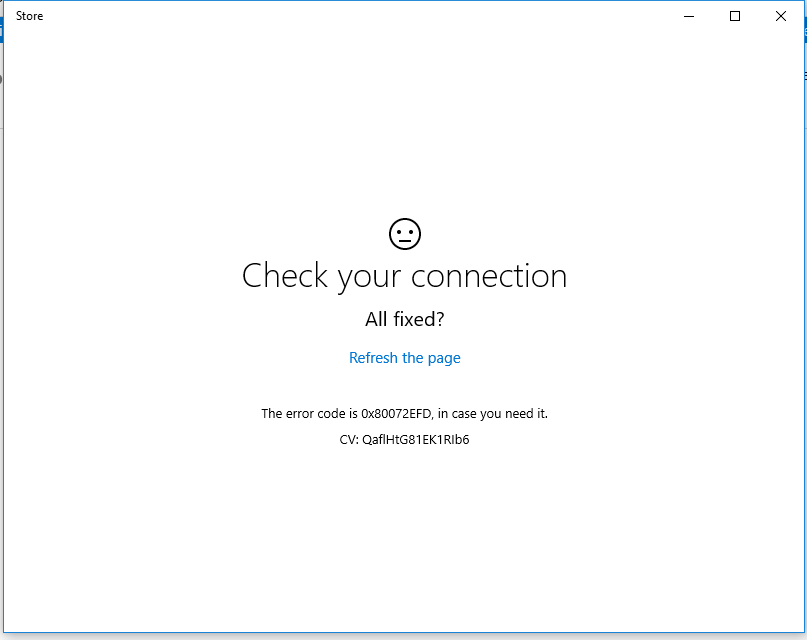 If the error is related to connection, check the Steps below.
On the other hand, If the error is something which is not a connection related issue, it might need more troubleshooting. For example, the download Starts and Stops at a certain percentage or you get an error code like 80070005, it hints an issue with Store on your computer.
Connection related fixes
To solve connection-related errors, the following steps are needed to be done. Check one by one and see if the issue resolves.
Check If your PC is online:  Try a browser and see if you can open a webpage. Also Restart your Network Router.
Make sure you are not using a Proxy server: Certain Store apps have a limitation on location. One app might not be available on a specific country. So if you are using a proxy server to connect to the Internet, try disabling it.
Temporarily disable your Antivirus: Sometimes 3rd party Firewalls can block the connection to the Store, so to isolate the issue you can try disabling Firewall/3rd party AV and see if it resolves it. Please note that you should not do it for a long time as it poses security risk.
Make sure you are not on a cellular network: Windows Store from the start has problems with the cellular connection as they are set as metered by default. So if you are using a cellular connection, please try to switch to another network.
If you are having intermittent problems, it is quite probable that network related files might be damaged. A repair install might be needed to fix it.
Non-connection related fixes
There are quite a number of fixes available if Windows Store throws an error after starting the download. Let us discuss them one by one:
WSRESET
Wsreset, as the name suggests is a utility built into Windows to Reset Windows Store cache. To trigger it, use the following steps:
Open Run dialog box(Win+R)
Type in wsreset -i and Press Enter
This should Reset Windows 10 Store cache and if there is a problem with cache, this would clear it.
Reset Store app
The next step if Wsreset doesn't help is to Reset the Store app. To do this, follow the steps:
Open Run Dialog box(Windows+R key)
Type in ms-settings:appsfeatures  and Press Enter(Alternatively, Start>Settings>Apps and features)
Locate Microsoft Store
Click Advanced Options

Locate and click Reset Button

This should Reset Store app. Open it and try downloading the app/game again.
Reset Windows update components
Microsoft Store uses Windows Update Engine to download Store apps, so Updates components too sometimes fixes the issue. To reset Windows update components, you can see this guide:
Check for necessary services
Windows Store does also require some services to be up and running as well. I occasionally encounter cases on Windows forums where people have those disabled. To check if the services are in the correct state, do the following steps:
Right-click Start>Run and Type in Services.msc to open Services.
Make sure the status of the following services is Automatic and running

Windows License Manager
Background Intelligence Transfer service
Cryptographic Services
Windows Update
Windows Store

If needed, you can Restore them using the following Registry keys which can be downloaded here.
Download Registry Keys to Restore Services Necessary for Windows update
Repair Install Windows 10
If none of the methods help, the damage might be so severe that a Windows Reinstall is required. A repair install, Reinstalls Windows together with keeping everything. You can see this guide for doing a repair install.
How to do a repair Install using a windows 10 ISO to fix a broken windows
Please note that a repair install requires an existing newest Windows 10 Installation media.
That is all for now. If you have any more solutions, please add those in comments.