Upgrade blocks that can prevent Windows 10 1903 to install
Windows 10 1903 is already out for Windows Insiders in the Fast, Slow and Release preview rings. As the RP ring has a higher base, people are upgrading their devices to 1903 and with this Microsoft wants to test Build 1903 as much as possible before general release. However, there are some upgrade blocks that prevent the upgrade to be installed, and the user can get a message as shown in the following:
"This PC cannot be upgraded to Windows 10"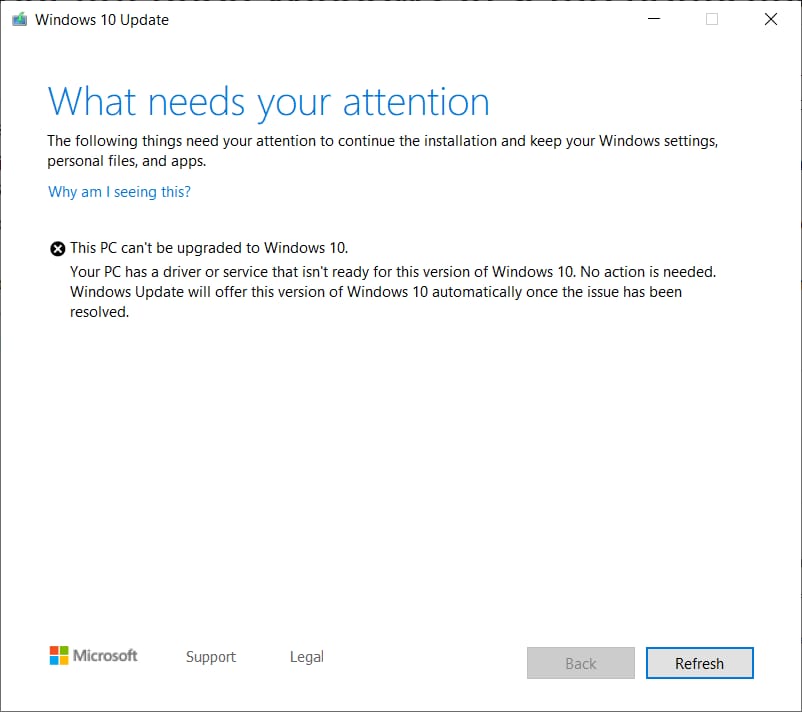 The message can vary, it can also show a device or hardware isn't compatible with this version of Windows
Upon researching this issue, I came across two upgrade blocks as per the time of this writing i.e. 18th April 2019:
 Your device has some Anti-Cheat Software installed like Battleye which is a known issue on some games.
 Your device as a hardware which is still incompatible with version 1903.
Resolution
If you get a similar message, all you need is to check the upgrade logs to find the incompatible app/driver or service. Microsoft staff has answered a QA on this which can be found here. As finding the root cause is a bit difficult, you can run the batch file that automatically does this job for you. Download the batch file here.
Upon the run, you can find some similar kind of message like this:
App Name: Drive reassignment

App Vendor: Microsoft
This is an upgrade block for #2 mentioned in the above list. The wording certainly isn't correct, but you can always take help of us to decipher that 🙂.
Resolutions
For the upgrade blocks, here are the resolutions:
If you see Battleye after running the batch file, the immediate fix is to update the games you play, which has a fix for this. If you do not have a game or you deleted that before that uses the same, try deleting the folders "C:\Program Files (x86)\Common Files\BattlEye" and C:\Program Files (x86)\BattlEye If they exist. Reboot and then try updating again.
If you see the "Drive reassignment" block, usually removing the SD card from the slot and running the update should update your device. (Thanks to Ian Dixon for the tip). Caution: Your SD card might not work after the update as it is listed in the known issues.
Summary
Microsoft says they would publish a list of complete upgrade blocks soon on the Update History page that would make things more easier for the users.
If you discover any other upgrade blocks, let us know in the comments.