[Fix] User profile issues after installing Feb patches
Microsoft released updates for all supported versions of Windows 10 last Tuesday i.e. Patch Tuesday updates.  KB4532693 was released for Windows 10 version 1903 and 1909 and  KB4532691 was released for version 1809. While the major response has been positive, a small set of users are seeing some issues, most commonly user profile issues i.e. failing to sign in after the update installs. What happens is, Windows tries to sign in to the user account, but fails and instead logs in to a temporary one which does not contain any data/apps/settings set by the user. Most commonly, the user profile folder is named in C:/Users/<username> to C:/Users/<username>.000 (example here)  Other variant includes you see a message something similar to "the user profile failed to sign in". This article discusses the same on how to correct these issues.
Uninstall updates
If you can log in to a temporary account, you can uninstall KB4532693 and KB4524244 which should likely resolve the issue. Follow the steps.
Press Windows key

 

+ I keys simultaneously to open the Settings app.

Click Update and Security.
Under Windows Updates, look for View Update History.
Click Uninstall updates at the top.
Locate the two most recent updates, KB4532693 and KB4524244 and click Uninstall.'
Click Yes when prompted.
Restart and you should see the account back.
Block Updates for a while so that it does not reinstall.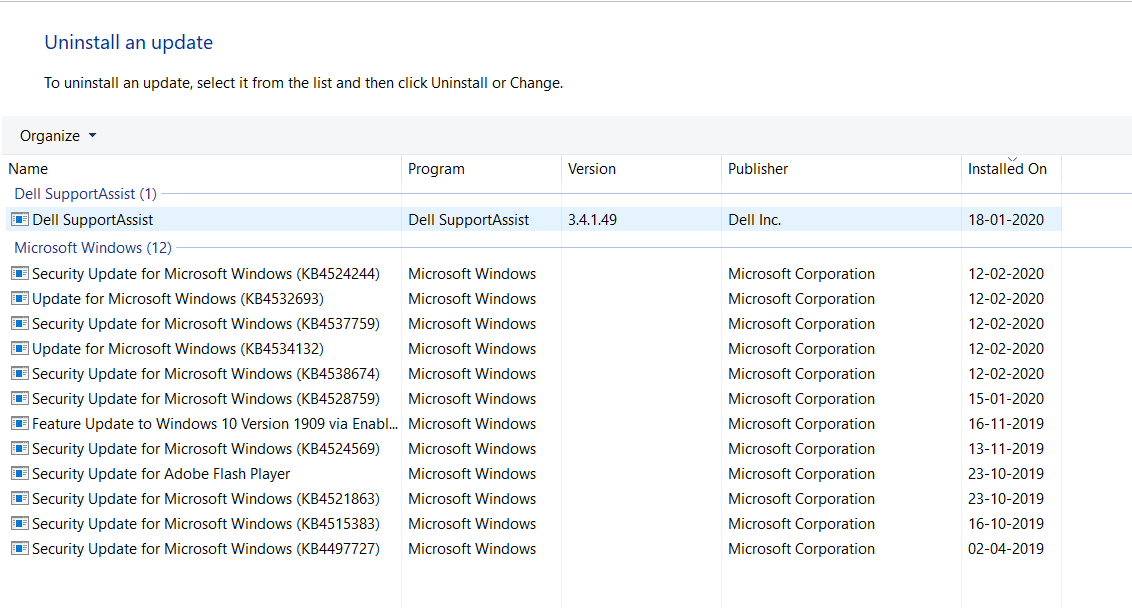 Alternatively, if you are not able to login to the account, please use the Windows Recovery to uninstall updates.
When the computer shows the Windows boot screen, restart or perform a hard shutdown.
Restart it again two times during the same stage.
At the third time, you would see Windows Recovery opened up.
In it, click Advanced options.
Choose Uninstall last Windows update.
Choose cumulative update.
The computer would restart and hopefully, the account would work again.
Perform a System Restore
If uninstalling updates hasn't helped, you may have to do a system restore. The catch is, you should have it enabled.
In the Search bar, type in System Restore and press enter.
Choose System restore and choose a date before 13th Feb 2020.
Click Next.
The computer would be restored back.
As of now, these methods can help if you are having account issues with Windows 10. As of now, KB4524244 was pulled off by Microsoft last Friday but KB4532693 continues to be available. I would continue to monitor and update if new information is available. Microsoft, as I was told is looking into this.
Also see:
https://answers.microsoft.com/en-us/windows/forum/all/cumulative-updates-february-11th-2020/548d4ded-39a1-4270-a866-627ea7c25de6