Troubleshoot Minecraft issues on Windows 10
Minecraft is a popular game from Mojang Corporation. While a majority of people play Java version of Minecraft, there are people who have switched over to Windows 10 UWP app version of the game. Minecraft offers free Windows 10 version for those who have already purchased Java one. This offer is scheduled to end in April 2020. In the Microsoft forum, I see a lot of questions related to Minecraft. I here summarise a number of common Minecraft issues raised often.
You do not have any applicable devices linked to the account
This is the most common problem you see when you try to install it from the Microsoft Store web. You would not see Minecraft in Microsoft Store app either.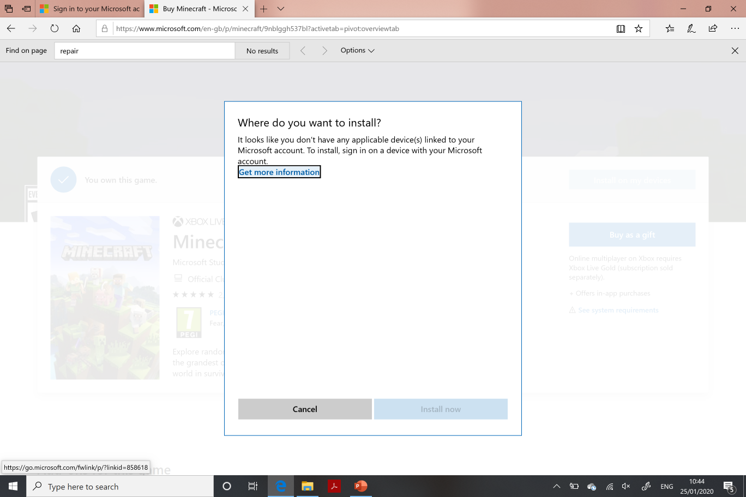 Problem: As it suggests, you do not have a device on which it can be installed. It is due to your device not meeting system requirements.
Resolution: Check your PC and Windows Specifications. Here are the requirements listed on the app page:

Although it says Windows 10 version 1803 would suffice but you must have Windows 10 1903 as I see. Check your Windows Specifications in about page of System Settings. It should be at least Windows 10 1903 Build 18362+.
Minecraft does not Install from Windows Store
There are a number of cases I see where the user is not able to download Minecraft in Microsoft Store. In that case, you should see these steps below which would help you to resolve your issues. See this article below:
Minecraft already redeemed code Windows 10
If you have a Java version of Windows 10, you can redeem Windows 10 version for free through a code. This has a pre-requisite that you should have purchased Minecraft before October 2018(More T&C here). To get a code, login to your account and click the redeem button. When you try to use it in Microsoft Store, you get a message that the code has already been redeemed.
Cause: The code already was used.
Resolution: Make sure you are using the same account and you have not redeemed previously from another account, like a family member if it is a shared PC. Also make sure your account meets the requirements and Terms and conditions.
If still, you cannot redeem the code, you need to contact Microsoft Store support. Open Get Help in Microsoft Store, type "talk to an agent" in the virtual agent and choose Windows–>Gaming support. Depending on your country, you would be presented with a list of options available like Chat/Call me back etc.
Miscellaneous issues like taking refund, account transfer, not able to reinstall etc.
These are some account-related issues which you can resolve only by contacting Mojang support. For that, there are a number of options.
If you want a refund for Microsoft Store version, contact Microsoft Support as indicated above. Refunds are likely possible for 7 days since purchase.
These common issues would likely help you to resolve Minecraft related problems. If you need any helps or have any suggestions, send in the comments!