How to Uninstall Windows 10 21H1
The first update of 2021 to Windows 10, called the May 2021 update is about to release to stable Windows 10 release soon. This article discusses how to Uninstall Windows 10 May 2021 update. Like Windows 10 20H1 and 20H2, 21H1 also shares the same codebase. Although the experience should be swift, there may be cases that uninstallation of it would be required.
Uninstall Windows 10 version 21H1 from your PC
To uninstall Windows 10 21H1 or Windows 10 May 2021 update, execute as per scenarios:
If the qualifying release is version 20H2 or 2004, Uninstall update from Update and Security>View Installed updates
If you had version 1909, Uninstall from Settings>Update and Security>Recovery.
Applies To : Windows 10
Method 1: Uninstall Windows 10 21H1 if you have version 20H2 or 20H1
If you were Builds 19042 or 19041 i.e. Windows 10 version 20H2/2004, you need to remove the enablement package of 21H1 to remove the update. An enablement package just turns on the features, where the code of the OS remains the same. Here are the detailed steps.
Go to Settings>Update and Security>View Update History.
Click Uninstall Updates.
Select "Feature update to Windows 10 21H1 via enablement package" right-click it and choose to uninstall.
Restart the PC to remove the update.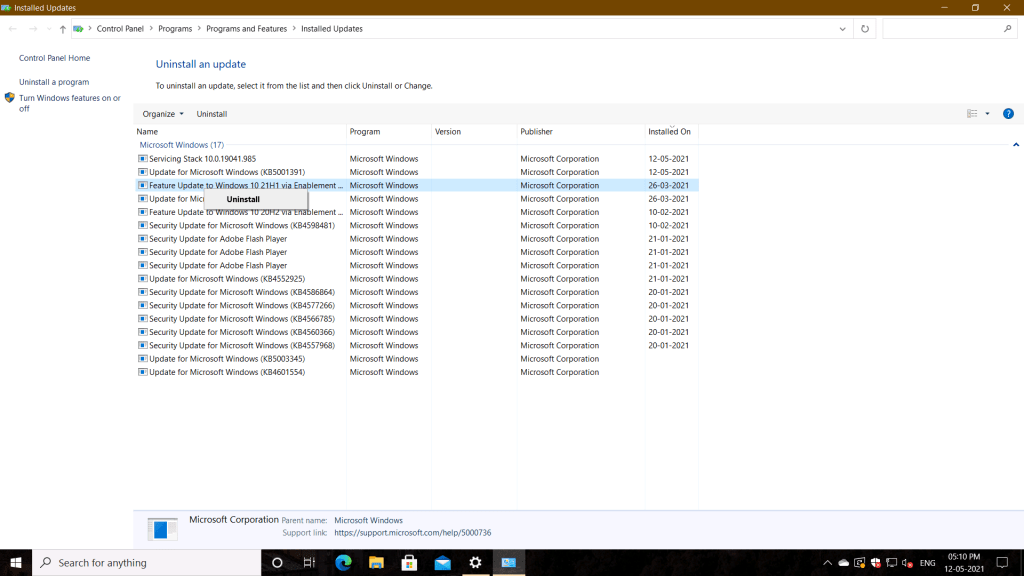 Method 2: If you had version Windows 10 version 1909 or October 2019 update.
Windows 10 version 1909 has reached the end of service in May. It was the last major feature update that had a code difference. Although a lot of users have already moved to 2004/20H2, if the user has directly updated from it, to remove Windows 10 May 2020 update, see the steps below:
In Settings, go to Update and Security>Recovery.
Choose go back to the previous version of Windows.
Choose the reason and start the rollback.
Please note that you get only 10 days in this case to remove the update.
These methods can help you to uninstall Windows 10 May 2021 update aka 21H1 update.
Also check:
Windows 10 21H1, the next version of Windows 10