Windows 11 Goes live in Beta Channel
Windows 11, the next generation of Microsoft Windows succeeding Windows 10 was released to Windows Insiders in the Dev Channel on 27th June 2021. After a couple of cumulative updates, Microsoft believes that Build 22000.100 is very stable, hence eligible for Windows 11 beta channel.
So last week, Microsoft shipped 22000.100 in the Beta channel. This means both Dev and Beta channels are on the same version. Microsoft is offering a channel switch as well as there were no Dev Channel releases last week for those who prefer stability.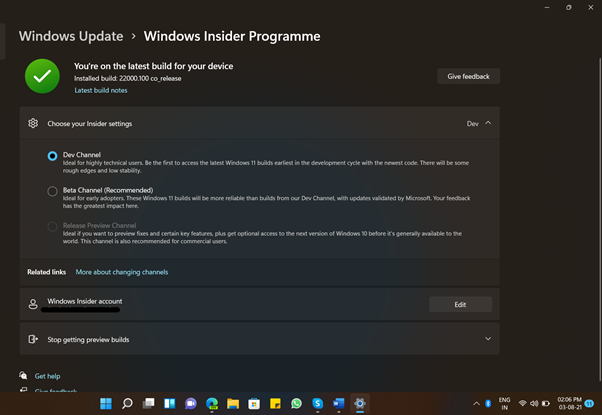 Build 22000.100 is indeed pretty stable in my tests. The changelog about the complete changes can be read on my other article or blog post from Windows.com
Blog post from June 28th (windows.com)
The list of known issues is quite large though, and hopefully, the fixes would be delivered soon for a better experience.
Known issues with Windows 11 Beta Channel Build 22000.100
[REMINDER] When upgrading to Windows 11 from Windows 10 or when installing an update to Windows 11, some features may be deprecated or removed. See details here.
Start:

In some cases, you might be unable to enter text when using Search from Start or the Taskbar. If you experience the issue, press WIN + R on the keyboard to launch the Run dialog box, then close it.
System and Windows Terminal is missing when right-clicking on the Start button (WIN + X).

Taskbar:

The Taskbar will sometimes flicker when switching input methods.

Settings:

[ADDED 7/29] Links to specific Settings pages are not navigating to the correct page in Settings unless Settings is already open.
When launching the Settings app, a brief green flash may appear.
When using Quick Settings to modify Accessibility settings, the settings UI may not save the selected state.
Settings will crash when clicking "Facial recognition (Windows Hello)" under Sign-in Settings if Windows Hello is already set up.

File Explorer:

Explorer.exe crashes in a loop for Insiders using the Turkish display language when battery charge is at 100%.
The context menu sometimes doesn't render completely and ends up truncated.
Clicking a desktop icon or context menu entry may result in the wrong item being selected.

Search:

After clicking the Search icon on the Taskbar, the Search panel may not open. If this occurs, restart the "Windows Explorer" process, and open the search panel again.
When you hover your mouse over the Search icon on the Taskbar, recent searches may not be displayed. To work around the issue, restart your PC.
Search panel might appear as black and not display any content below the search box.

Widgets:

Widgets board may appear empty. To work around the issue, you can sign out and then sign back in again.
Launching links from the widgets board may not invoke apps to the foreground.
Widgets may be displayed in the wrong size on external monitors. If you encounter this, you can launch the widgets via touch or WIN + W shortcut on your actual PC display first and then launch on your secondary monitors.

Store:

We are working to improve search relevance in the Store including resolving an issue where in some cases the ordering of search results is inaccurate.
The install button might not be functional yet in some limited scenarios.
Rating and reviews are not available for some apps.

Windows Security

[ADDED 7/29] For some Insiders, the text is not displayed correctly in the UAC dialog. This issue impacts Insiders not running under EN-US.
"Automatic sample submission" is unexpectedly turned off when you restart your PC.
Windows Hello (Face) may show an error saying "Something went wrong" when attempting to sign in after upgrading. To work around this, sign in with your password or PIN and:

Open Device Manager.
Uninstall "Windows Hello Face Software Device" under "Biometric devices".

Localization

There is an issue where some Insiders may be some missing translations from their user experience for a small subset of languages running the latest Insider Preview builds. To confirm if you have been impacted, please visit this Answers forum post and follow the steps for remediation.

[ADDED 7/29] Windows Sandbox:

The Taskbar will crash continuously in Windows Sandbox. The team is investigating a fix.
Via Announcing Windows 11 Insider Preview Build 22000.100 | Windows Insider Blog
Also check: