Check Windows 11 compatibility using these tools
Windows 11, the next release of Windows is set to schedule later this year. In this article, I mention the best checker tools available that tell if the PC supports Windows 11, including Microsoft and 3rd party alternatives. Windows 11 has a somewhat high processor and security requirements hence it is recommended to check the compatibility before trying to Upgrade.
Windows 11 System Requirements
The system requirements for Windows 11 are as under:
A 'modern' dual-core, 64-bit processor
1GHz clock speed
64GB drive
4GB RAM
UEFI, Secure Boot capable
TPM 2.0
Greater than a 9-inch screen with HD Resolution (1366×768 equivalent)
DirectX 12 compatible graphics / WDDM 2.x
TPM 2.0 and Secure boot
If you are not sure if your PC passes the compatibility check, this is where the tools are helpful.
Check Windows 11 compatibility using these tools
To check Windows 11 if Windows 11 is compatible with your PC, you can use the following tools
PC Health Checkup app from Microsoft Corporation.
Windows 11 requirement checker from Bytejams.
WhyNotWin11, an open source tool from Guthub.
Applies To : Windows 11
PC Health Checkup app from Microsoft
Microsoft has provided a tool to check PC compatibility, called the PC Health Checkup app. Initially released in June 2021, Microsoft took it down for a while as the initial release did not tell what is non-compatible. Microsoft accepted that they missed an opportunity there in the beggining, and the new tool exactly tells what is missing on your device. You can get the same from here:
Windows 11 requirement checker from ByteJams
This is a 3rd party tool from https://bytejams.com, which is just an executable file. Running it opens a Window, which you the outcome. The bar at the top gives a conclusion that your PC is compatible with Windows 11 or not.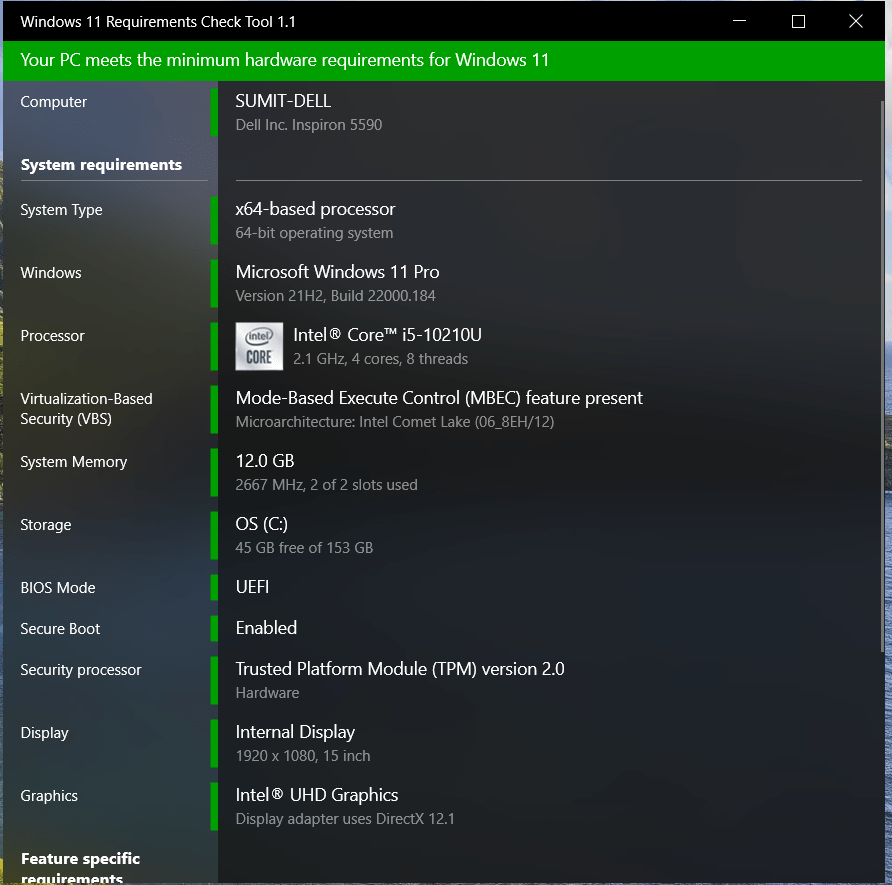 Download the tool from here:
WhyNotWin11
WhyNotWin11 is another excellent 3rd party tool, developed by an Independent Developer. In fact, it was one of the earliest tools, and still my pick of the choice. The best thing is, this tool is open-source on GitHub.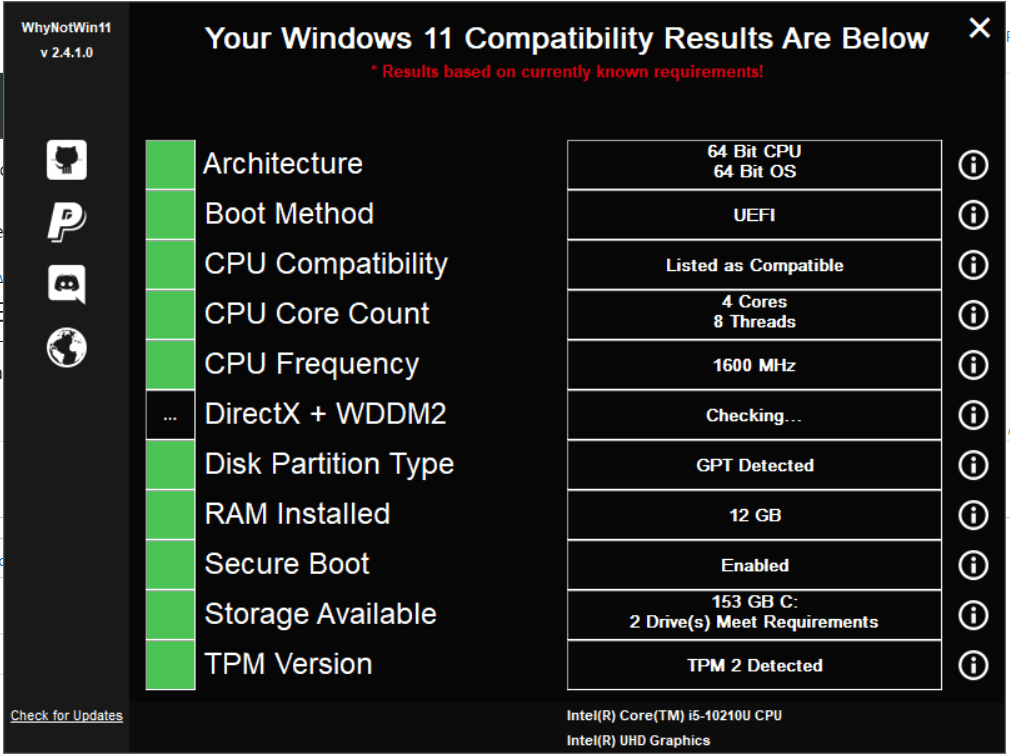 These tools can help you to know test PC compatibility for Windows 11.
Also check: