All about Powertoys explained.
Microsoft Powertoys are tools that help users increase productivity while working on Windows. The tools include FancyZone, Image resizer, Powertoys Run, File Explorer tools, etc. Each one is explained one by one below.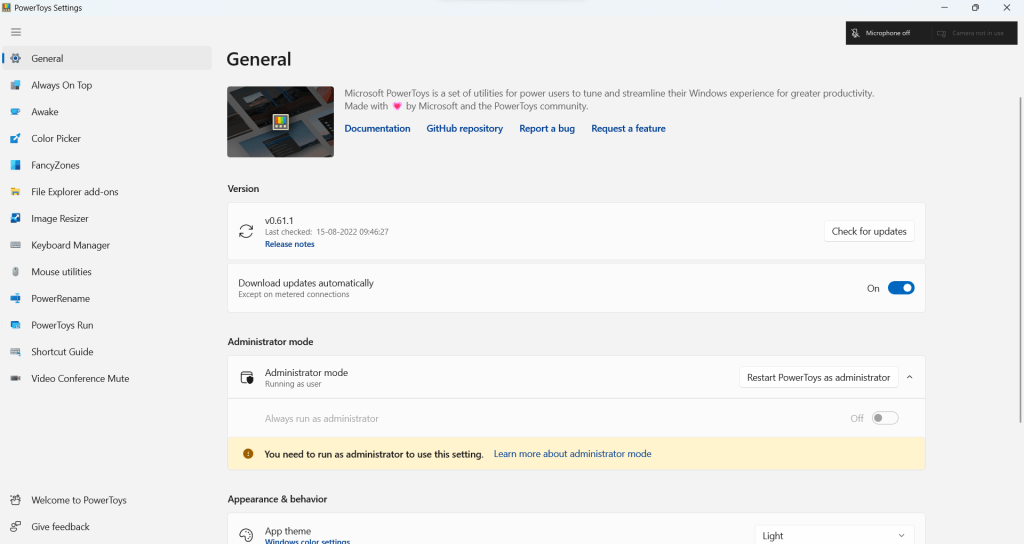 Download Powertoys
Powertoys are sourced on Github, so you can download them from their releases page there or download them from the Microsoft Store:
Microsoft PowerToys GitHub releases page (aka.ms)
Using Powertoys
As mentioned above, Powertoys contain several tools. Each one of them is explained below:
Always on Top
If you want to pin a Window on the top if you have multiple apps open, this Powertoy will help. You can also trigger this with the Win+Ctrl+T Shortcut.
You can configure a border around a pinned app, sound when the Shortcut is used, and exclude apps in its settings.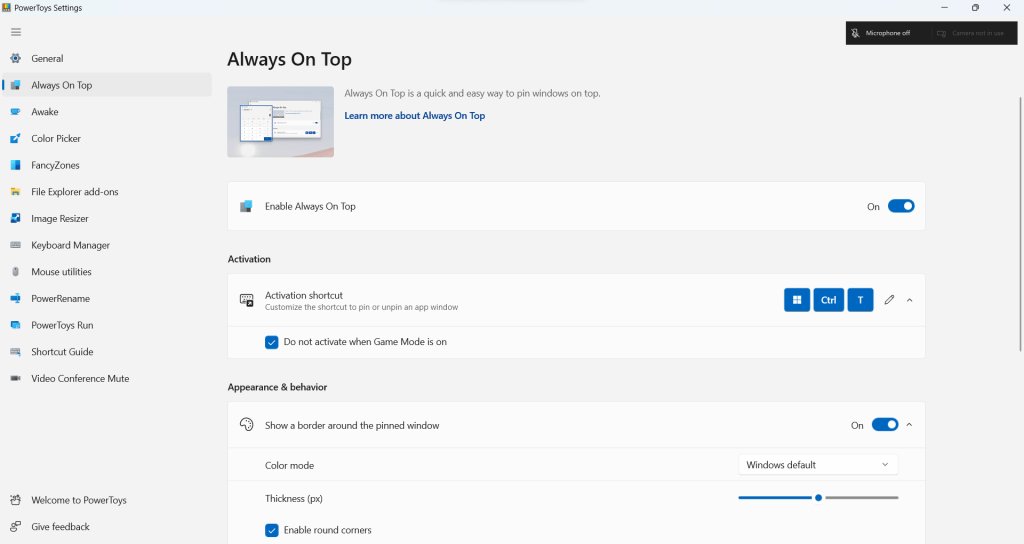 Awake
You can use the Awake tool to ensure the computer does not sleep or turns off the screen when not in use. Particularly helpful if you have a time-consuming task done by Windows so that it does not stop.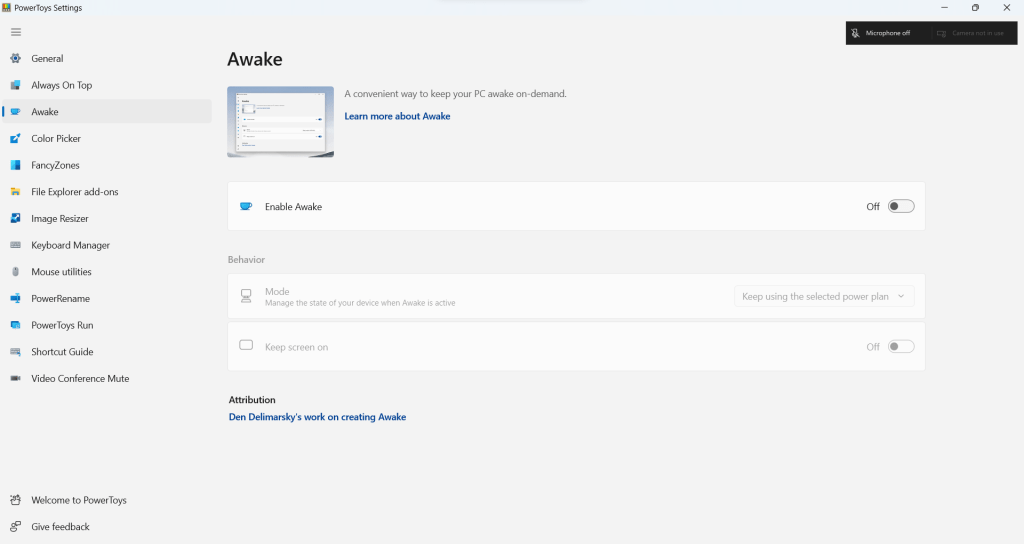 In the Settings, you can configure the Power plan and mode. For mode, you can set Inactive/Keep awake indefinitely/keep awake until time set.
Color Picker
Color Picker tool helps you to identify a color on your screen, which can be copied if you require it in your desired format. Win+Shift+C triggers the color picker. Afterward, you can move the mouse pointer on the selected pixel to show the color in HEX format.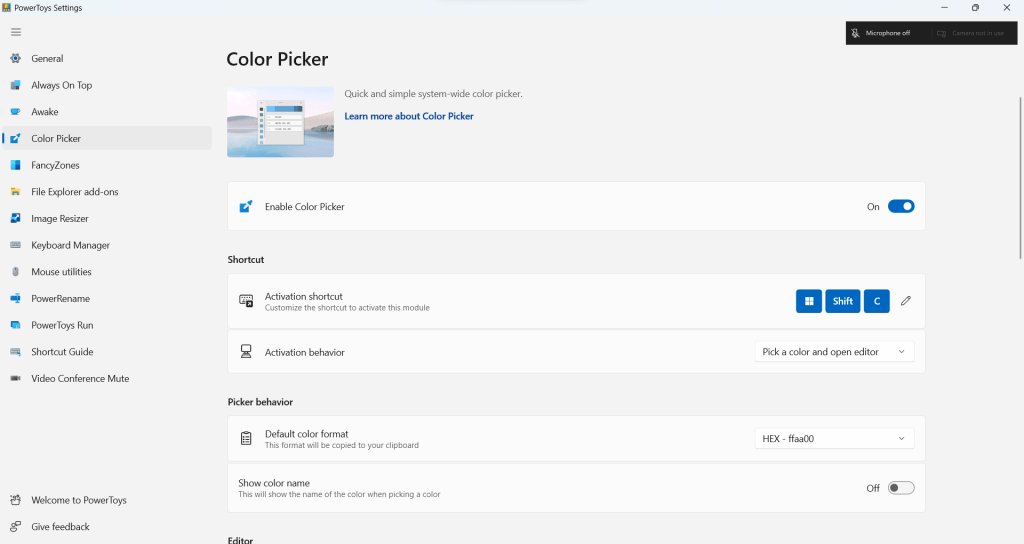 Correspondingly, you can configure the Shortcut in the Settings and select Activation behavior. Additionally, you can choose the default copy format from HEX/CMYK, etc.
FancyZones
FancyZones is a multiple Windows management tool for snapping open Windows into desired layouts. This is particularly helpful if you have a large monitor and want to organize Windows. Moreover, Microsoft integrated this sort of functionality in Windows 11 through Snap layouts, but the same does not allow custom layouts, which Fancyzones allow.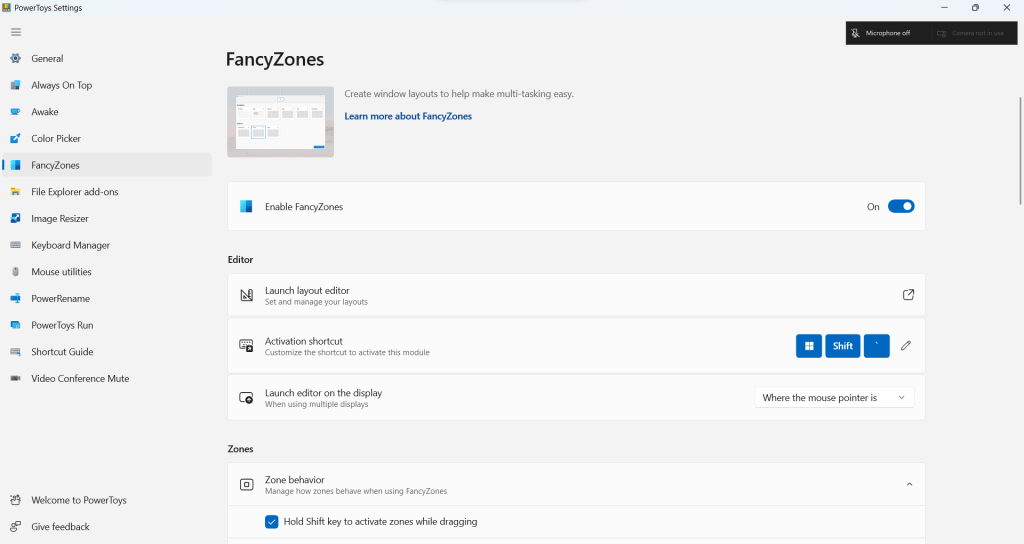 You can configure shortcuts, Zone behavior, and Zone appearance in the Settings. Additionally, the other Settings include Window behaviors and layout customization.
Add-ons for File Explorer
Customers can use several File explorer add-ons to enhance the user experience. The following list describes the same.
Enable Thumbnail preview for SVG, PDF, source code files like C, gcode, etc., which are not natively supported.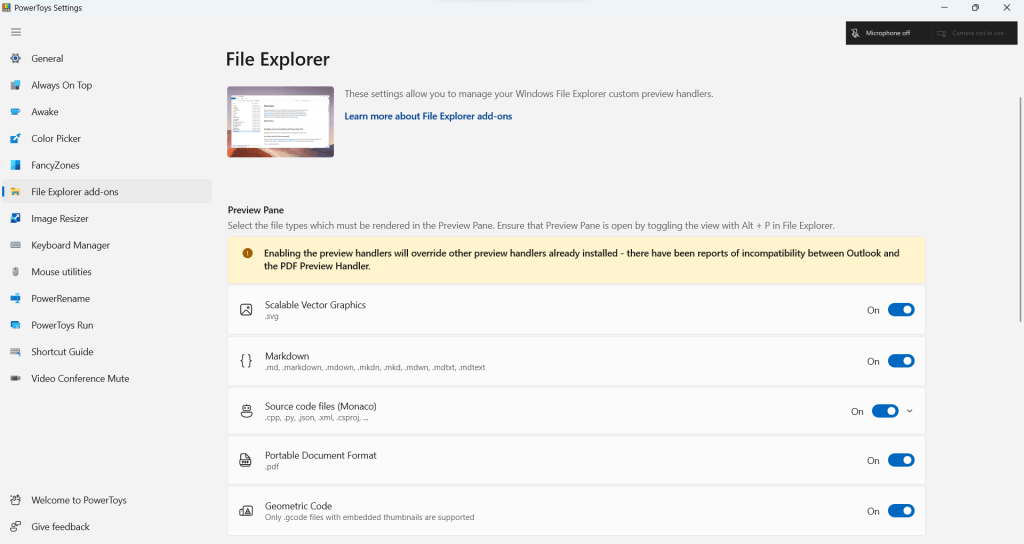 The Settings allow individual toggle for all kinds of supported extensions.
Image Resizer
Image Resizer, as the name suggests, allows a user to resize the Image according to his requirements.
Right-click an Image/Images in the FE and select Resize Image option. You can select from Small, Medium, or Large, or choose a custom size. Click OK to complete.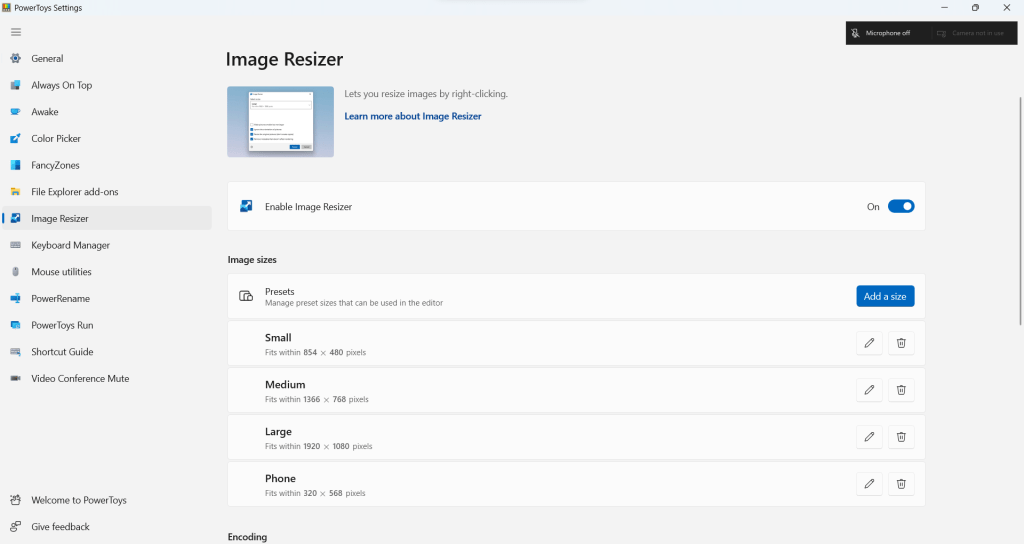 You can add a preset size, fallback encoding, and resize the file name in the Settings.
Keyboard Manager
It is one of the most potent Powertoys tools. Keyboard Manager allows you to remap keys and shortcuts built-in into Windows.
Depending on the user's choice, one can remap a key to a shortcut or a key to another key. Of course, there would be exceptions like Fn and shortcuts like Ctrl+Alt+Delete.
The Powertoys must be running in the background for the key mapper to work. Additionally, entering your credentials does not work on the lock screen.
Mouse Utilities
The Mouse Utilities help you to :
Find the pointer on the screen
Show a visual indicator when a button on the mouse is pressed
Show Crosshair on the Mouse Pointer.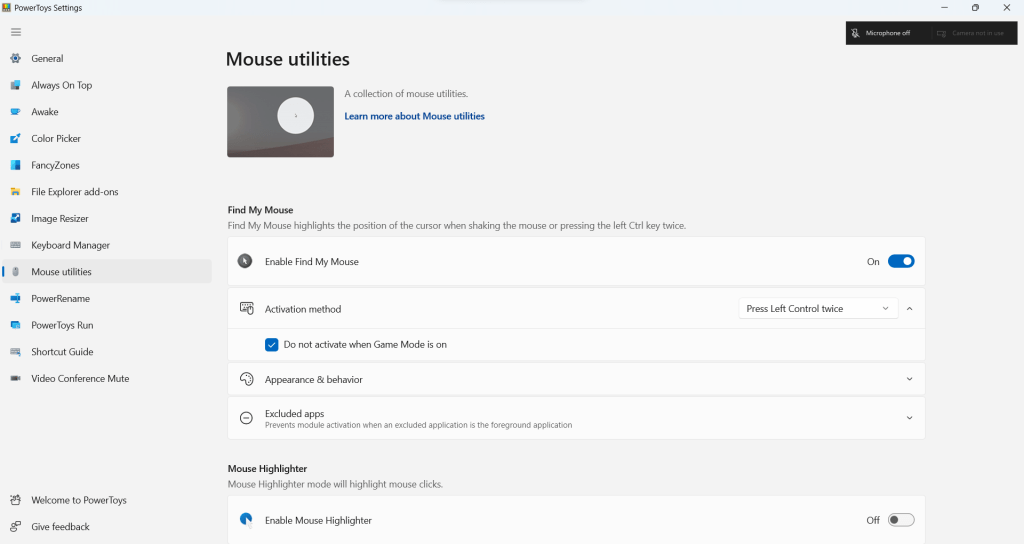 You can configure various customizations like the colors, the display duration, etc., for all three from the Settings.
Power Rename
PowerRename tool helps you to rename multiple files at once using specific filters. Additionally, you can search for particular files and rename them accordingly. You can preview the file names before approving a rename and undo if you have already done a rename operation. You can also use the regular expression filter if your files have regular expressions.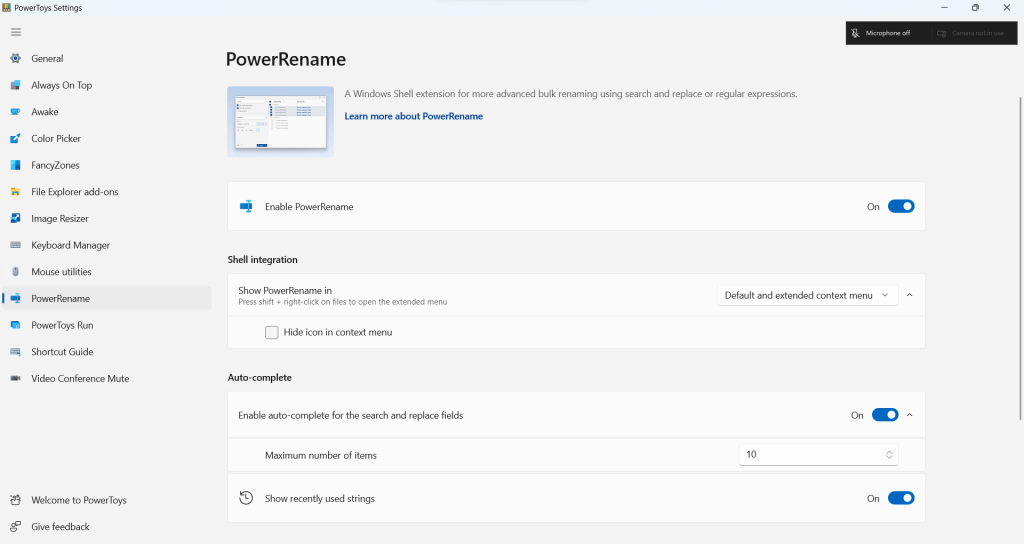 PowerToys Run
PowerToys Run is a modern, quick launcher tool that allows you to quickly search and open items/files.
You can search for Programs, Files, running processes, Calculate math, convert units, open a web page, etc., from the launcher itself. It can be invoked using the Alt+Space buttons.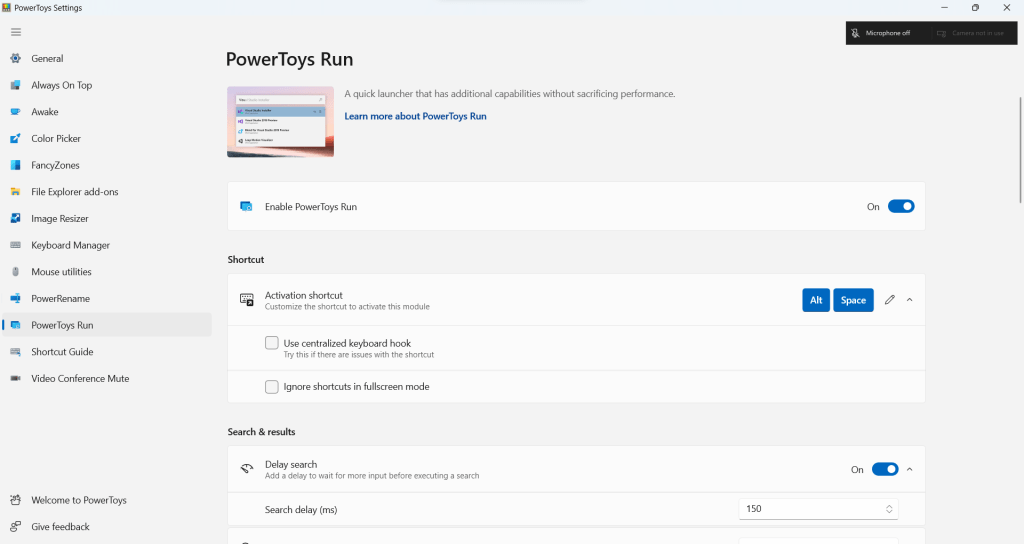 Video Conference Mute
This tool allows you to quickly turn on or off your Camera and Microphone, used in Video conferences/meetings.
To conclude, these are the Powertoys for Windows. Moreover, more tools are being added, as per community requests.